If you require such tools in ANTIDROP execution, due to their special properties, please do contact us to advice the best possible solution.

EGA Master is a member of DROPS, a global initiative for inter-sector collaboration for the establishment of standards and solutions to prevent falling objects, represented by companies that are the most advanced and safety aware across multiple sectors: such as Oil, Gas, Mining, Construction, Manufacturing, Safety, etc.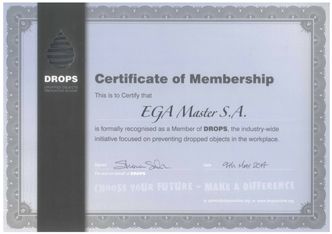 As a member of this initiative, EGA Master has designed, manufactured, tested, approved and certified all its ANTI-DROP (prevention against falls) tools and accessories according to the latest standards of security and recommendations provided by DROPS, ensuring the highest standards of security against falling objects. All this, combined with industrial class quality tools, ensures that EGA Master ANTI-DROP solutions meet the highest standards of efficiency, productivity, comfort and safety.