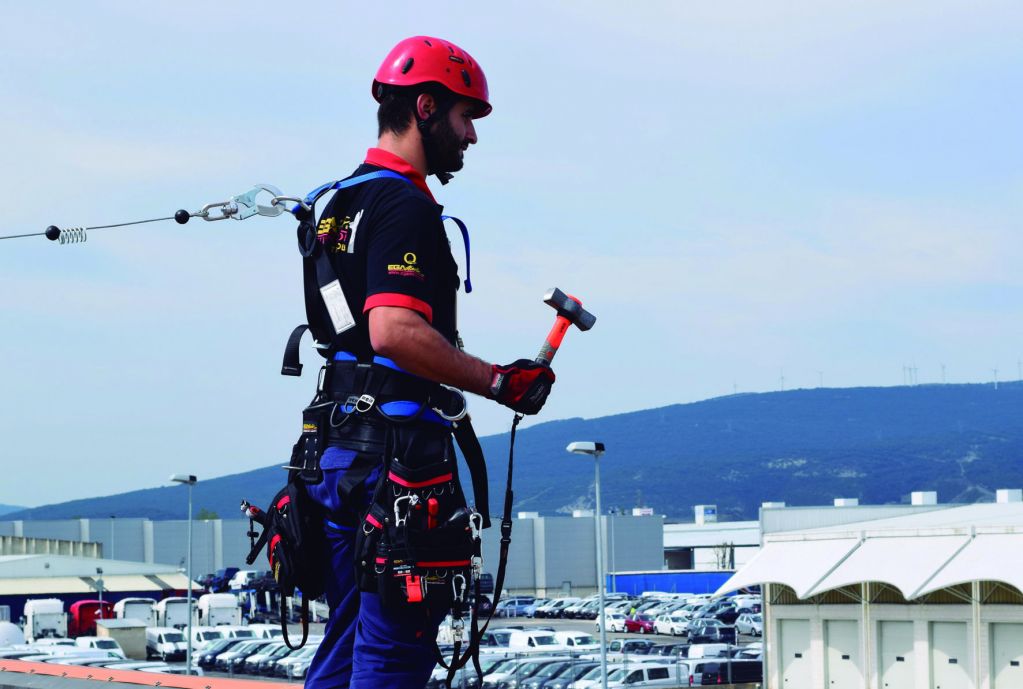 In the previous post we talked about the measures recommended by the DROPS organisation for securing personnel using tools weighing less than 5 kilos when working at height.
Today we continue on how to secure operators when operating with tools above the above mentioned weight.
Proprietary tools and hand-held machinery for heavy duty use, specifically designed and manufactured for use at height are widely available.
All use of heavy tools and hand-held machinery where equipment may fall to an underlying level should be risk assessed. So, they should be secured against being dropped, both when in use and while being transported. Securing points for tools and machinery should be in place above the work site, attached to the surrounding structure, not to scaffolding or pipework.
Tools heavier than 2kg should not be secured to the body, secure them to the adjacent worksite structure.
The attachment points / devices on tools should be documented and all securing wires inspected in accordance with the manufacturer's recommendations
The securing wire should be as short as possible to reduce shock loading effect
Energy absorbing lanyards and tethers can stretch beyond the safe calculations or drop distance, therefore ridgid securing lanyards should be used on heavy tools at height, according to the work environment
Only certified lifting equipment should be used as securing devices (where appropriate)
Tools and equipment used at height must be registered and checked to leave nothing behind.
Proprietary tools for use at height and their retention components should not be modified. Using non-proprietary or modified tools, or alternative retention accessories may compromise integrity.
Tool Cabinets for Work at Height
The appropriate recording, securing and control of tools used at height can help to eliminate unnecessary dropped objects at the worksite
All tools should be appropriate for use at height and they should have documented attachment points
All tools should be adequately secured within the cabinets
In addition to the necessary tools, cabinets should be equipped with:
A sufficient number of correctly dimensioned safety wires / lanyards


A sufficient number of connectors / snap hooks / carabiner hooks with screw lock and eyelet


Special belts for fastening tools and bag a sufficient number of tool bags with internal fastening devices


A sufficient number of tool bags with internal fastening devices
Each cabinet should have an inventory list of certified and traceable contents and be kept locked, and one person should be designated as responsible for the cabinet
The responsible person should register all tools taken from and returned to the cabinet, with the authority of the Area Lead.
The contents of the cabinet and the register of tools in use should be checked at the end of every shift. It can be done manually or through Tool Control Systems available in the market.
Securing Other Portable Equipment
Recommendations
All portable equipment used where there is a risk of the equipment falling to an underlying level should be secured against being dropped.


Carrying pouches should always be used for radios and any other portable equipment without certified securing points.


Locks on pouches should have a double securing mechanism to prevent unintentional opening.


Belt clips that allow equipment to become detached when turned 180º should not be used.


Belts with snap fasteners are not suitable for securing equipment at height.


Battery compartments and covers on portable equipment should be secured to prevent internal components from falling.


Remember even small items falling from significant heights can cause injury and damage. Ensure all personal equipment is secure in a fastened pocket or carry pouch.


If the item is not required for the task, do not carry it at height - leave it at ground level.